Educating Students to Impact the World for Christ

Gerry Goede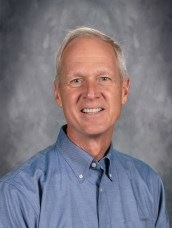 Gerry Goede
Administrator/Admissions/Finance
Phone: 406-587-9311 ext. 202
Groups: Administration
Mr. Gerry Goede is the HCS Administrator. He holds a Bachelor's Degree in Industrial Engineering from Virginia Tech and a Master's Degree in Math Education from Montana State University
He worked for more than twenty years in nuclear engineering, engineering management, and financial management and has taught Calculus at Montana State University. Mr. Goede has been teaching for 15 years and started teaching math and science classes at Heritage Christian School in 2004 and enjoys each and every student that God places in his classes.
Mr. Goede has a passion for seeing Christians grow through a focus on God's Word and discipleship. He also has a passion for tandem bike riding with his wife, Pat. They have taken several long bike trips throughout the country and love hosting and talking with other touring bicyclists.