Educating Students to Impact the World for Christ

John Rasmussen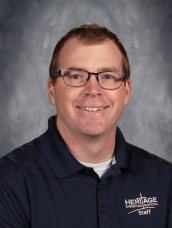 John Rasmussen
Co-Athletic Director/Secondary Teacher
Phone: 406-587-9311 ext. 224
Groups: Secondary Teachers
Mr. John Rasmussen teaches Geometry, Science 8, Bible 12, and PE/Health at Heritage. He holds his degree in math and secondary education from Creighton University in Omaha, Nebraska. He was born in Omaha. Recently, after graduating from college, Mr. Rasmussen moved to Ashland, Montana and taught there for three years. He met his lovely wife there and moved to Bozeman, Montana in the summer of 2017. They have one daughter!
Mr. Rasmussen loves hiking...off trail. He also enjoys sports such as golf, basketball, and soccer. You may have seen him on the basketball court as a referee.
He is glad to be at a school such as Heritage where our goal is to impact the world for Christ.